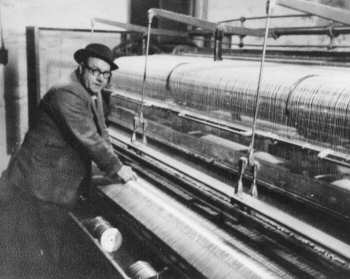 Paul and Joanne Allen's grandfather at work on one of the net machines. 1950's.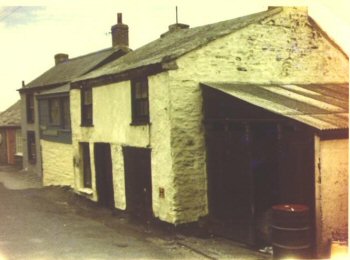 From right to left: Seine House, Barc House and Little Tamerisk. circa 1960's.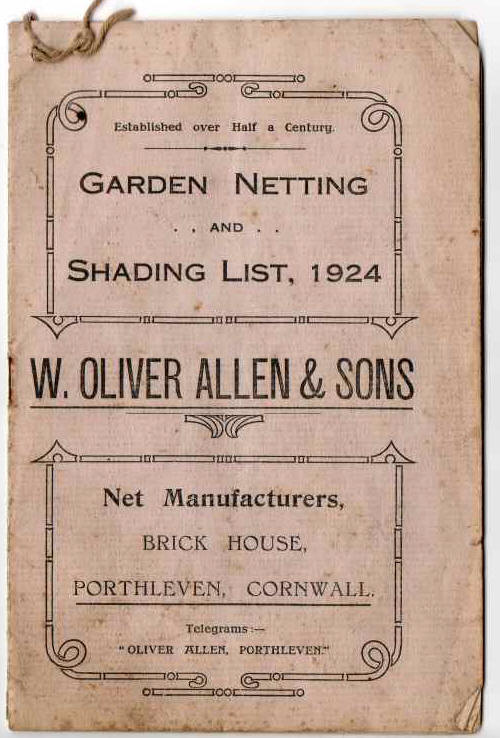 1924 Price list. Telegrams only and not until 1933 did they get a telephone - Porthleven 22
The family have been living in Porthleven for over 300 years and the family run business has been operating hereabouts for over 130 years. Prior to netting our descendants have been fishermen, fish jousters, lead miners and labourers to name a few. A few have even emigrated to the USA.

The firm originally started sometime in the 1870's by Oliver Allen with his wife Priscilla. They were the great great grand parents of the present Paul Allen, selling nets – mostly horticultural and sports. Sadly Oliver Allen died at only 52 leaving Priscilla and her sons to run the business. Details are sketchy but some years after Priscilla had passed away. There was a family dispute away travelling with the brothers. Bad enough that William Oliver Allen came home and decided to set up on his own with the help of his wife Laura.

They both worked hard and the business grew prospered well in the 20th century. He would set off on his bicycle and ride into Helston to catch the train for up country. Then cycling around the estates for orders for the business. At a peak employing up to 30 people in the factory and about 100 outworkers. Hand making nets or working on the net looms. Their Customers included Buckingham Palace, Royal Gardens of Windsor, Royal Botanic Gardens, Baron de Rothschild, Duke of Devonshire and Longleat House, as well as many of the local estates and individuals.

In the 1950's we seeing a demand for holiday letting the first property was let to visitors. By the 1960's with a down turn in the net trade from cheap imports, two flats were commissioned (present Loe Bar Flats) This was followed by the gradual removal of the net machines and into the mid 1970's the conversion of the other buildings. The last ones converted, were the Net Loft Flats in 1989.

We still carry on with a variety netting and tarpaulin work when required. Though on a smaller scale it is just as interesting. From football and tennis nets, climbing nets, props for films and the theatre. The making and repairing of tarpaulins, trailer covers, small mizzen sails and anything we can make with our sewing machines.
Below here are all the properties and their previous use
Loft House

2 net machines downstairs and working net loft upstairs

The Loft

4 net machines

Net Loft Bottom & Top

Cottage demolished and rebuilt as factory in 1933
2 machines downstairs and working net loft upstairs.
(reputed to be the site of the actual Porthleven Customs House)


Seine House

Steam Boiler House

and tar store

Barc House

Net dipping and tarring house

Homeside

Thatch cottage demolished and house built 1933 for family

Loe Bar Flats
Built in the Garden of Netloft top & Bottom
The majority of the nets were made on the machines and from cotton. When finished were taken to Barc House and treated. Firstly dipped in a treatment of boiling cutch and this drained off and then dipped in tar and this drained off. They were then loaded up and taken a 1/4 mile up to the net drying ground on Loe Bar Road. Originally this was the job of a donkey and cart and then a small 3 wheeled petrol powered truck. We still have our truck and donkey harness just in case.
porthleven-history has a few more of our old photos - people, business and Porthleven related.
(SORRY PAGE TEMPORARILY DOWN)