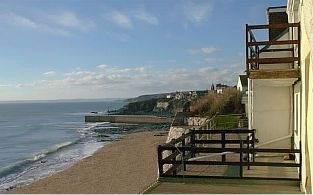 Overlooking the beach
Seasonal Photo's -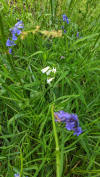 May. In nearby Penrose and late afternoon looking across Loe Bar. The bluebells in the walks are still putting on a show and look a bit closer amongst them for a rare White Bluebell. About 1 in every 10,000 according to the NT. Out of the woods the Hottentot Fig is now also beginning to flower. Considered a bit of an invasive pest, it does have a cheerful bloom.
6may22



April. Out and about at around Breage and another of the local crops - Potatoes. Under polythene for an early crop of new potatoes. This area also has great views back to Porthleven and normally unseen.
Potato update and 10 days later on a misty Good Friday the polythene gone
apr22



March and we have been fortunate to see some early spring sunsets.
march22




More February coast sunsets and inland walking.
Sunset and looking across a field that was once the site of Wheal Rose. The mounds are the covering of the capped shafts.
Inland on the footpaths and another local crop - Cauliflowers.
Inland and unpicked daffodils in bloom.
Feb22



February inland walking and locally a lot of field are given over to daffodil growing. In this case the public footpath runs right through the field for an up close view.
January Sunsets along the coast path.
Feb22




Walking and Cycling away from the coast.
Walking the inland footpath to Helston. Coming back via the Boating Lake and Loe Pool valley.
Cycling and a good place for a coffee stop is at Balwest with comfy bench and views to Penzance and Newlyn.
jan22



On the coast walking again and from left to right:
Penrose and Loe Pool, Loe Pool viewed from Degibna, Loe Pool from Loe Bar, West from the cliffs at Gunwalloe.
Christmas lights around Porthleven Harbour
Dec21/Jan22
A couple of recent winter sunsets on different days just in front of us overlooking the beach.
As a change from the coast. Inland walking on the local public footpaths. Left: the path goes through the St Elvan Round. Sadly all overgrown now, this area predates Porthleven and is reputed to where St Elvan first preached. Right: A very old path again and the footpath to Sithney Church used prior to our St Bartholomews before the 1850's.

<![if !supportEmptyParas]>W<![endif]>elcome to Porthleven
We are Porthleven business offering a selection of nine of our own individual self-catering accommodation sleeping up to 7 persons in the beautiful harbour village with 2 miles of beach of Porthleven.
We are ideally positioned along the coastal Loe Bar Road. Where is this? Have a look at Contact Us for our location and village maps. But they are grouped together on or around the cliff top, overlooking the beach and Mounts Bay.

We have parking for each property in our own off road car park, which is only a minutes walk from all the accommodation

Steps to the to the beach are only 40 metres away, which is ideal for swimming or a stroll on the sands. And it is only a few minutes walk down to the pier and centre of the village and harbour side, which is surrounded by a variety of cafes, shops, bakery, restaurants and pubs.

Porthleven is also an excellent holiday base for seeing this part of Cornwall. To the west, Penzance and Lands End. The east, Falmouth and the Lizard Peninsula. Inland the attractive cathedral city of Truro.

If you want to leave the car behind, then for walking or cycling, its out of your front door and onto the coast path or Cornish lanes. Heading either east or west with spectacular views all around. Look at our Walking and Cycling page.

Not sure which to do? Have a weather check to help decide.

What else is there to do here? If you don't fancy a stroll about the harbour and shops, shopping trip, a coastal ramble, scenic drive, swimming, sunbathing and playing on the beach, a fishing or boat trip, a kayak paddle or taking it too easy. Then look at our What's on Porthleven or What's on West guides for events happening in Porthleven and west Cornwall.